PAIN DISAPPEARS WITH THE BELT
Restpad contains natural magnetism and creates pressure around your legs. The pressure makes the creeping feeling in your legs disappear.
For various troubles
Restless legs syndrome is an individual disease that varies from person to person and from time to time. Whether you are having much pain in your legs every day, or just tingling a couple of times a month, Restpad will help you.
Carefully selected materials
Restpad's nickel-free magnetism is placed in a smooth belt that gives 100 % hit rate around your legs. You place the belt where the pain is at its worst – and within fifteen minutes the pain is gone. With Restpad you can avoid strong medication, and you only use the belt when you actually need it.
Customize to your needs
The effect from Restpad is immediate. If you use your belt before the problems start, you'll avoid them altogether. If you, for example, place the belt prior to a flight or a cinema visit, you don't have to worry about the pain or tingling in your legs. Eventually you'll get to know your pain and your Restpad in a way that helps you to prevent pain – and avoid all your trouble. A big advantage of Restpad is that you only need to use it when you have your pain. You do not have to think about your problem, the remaining part of the day.
Two methods in one belt
It's the combination of pressure and magnetism that makes Restpad effective. You'll check the pressure yourself, and Restpad tightens or unleashes depending on how big your troubles are. You only need one Restpad – the pressure on your first leg will also make the pain release on your second.
Restpad is available in two sizes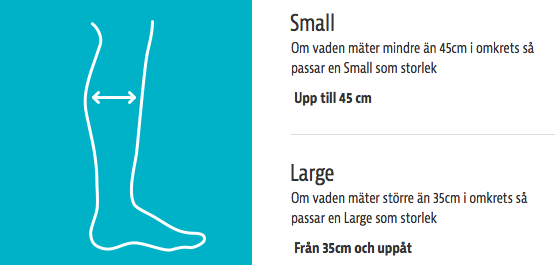 Complaint free legs or money back!