USE YOUR RESTPAD CORRECTLY
Personalize your Restpad for your needs. Here's a guide in three steps.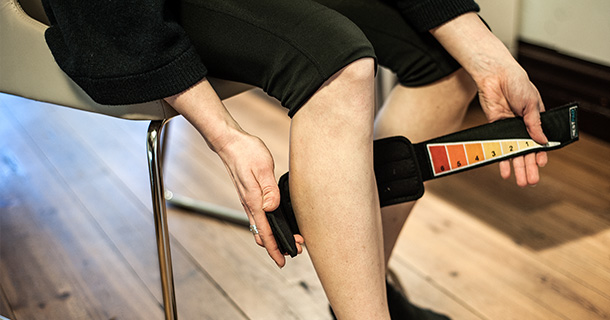 1. Tighten your Restpad over the part where it creeps the most, or where you feel the pain is about to come. Your Restpad must be pulled over the thickest part and on your skin or on a nylon stocking – it will not work over trousers or thick socks. Since Restpad is washable, you do not have to worry if it gets dirty.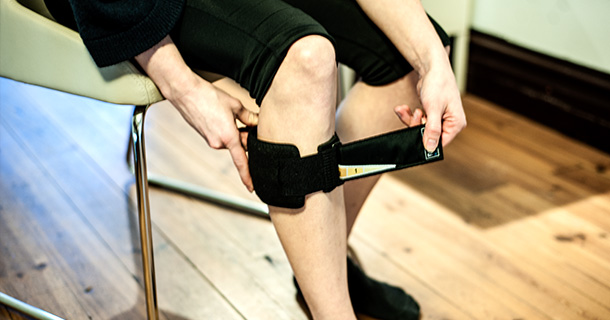 2. Tighten the buckle so the belt barely stays up, but does not fall down to your ankle.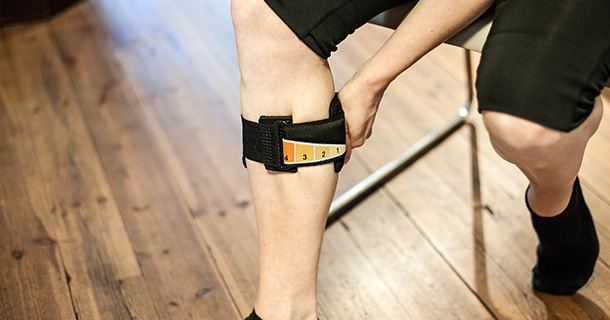 3. Then, tighten your Restpad at least two steps. If the belt stays up at step 2, then tighten it to at least step 4. If the tickling doesn't disappear within 15 minutes, you might need to change the position of the belt. Try to move your Restpad a couple of inches up or down so the magnetic field is placed in the centre of the tickling. Tighten another half step. Remember that we are all different and your symptoms don't have a static place on the leg. Sometimes you have to search to find the trouble zone.
For the best results
1 Restpad works best if you use it as early as possible, preferable, just before you think you'll get your problem.
2 Should you, for example, go flying or face a situation when you normally get problems, put on Restpad directly once you enter the aircraft or meeting room.
3 One of the problems with RLS is that the tickling and the pain can vary from day to day. A rule of thumb is: with greater pain – tighten a little more, with less pain – release a bit.
4 If the pain moves from one leg to the other, move your Restpad too. To get rid of the pain quickly, you can tighten the belt extra hard. In extreme cases, the pain may move back to the first leg, and the most common reason is that you haven't tightened enough when changing legs.
5 If you don't feel any tingling or pain, but still have trouble sleeping, you can have your Restpad loose around the ankle. The effect is much milder, and you can have a good sleep.
Complaint free legs or money back!